Description
An ultimate kitchen gadget that collapses to a tenth of in-use size in one swift movement, multi-purpose usage, steam, strain and serves food with ease.
When folded inward it can be stored easily or hung from a kitchen hook The Floraware colander strainer features a meticulous foldable design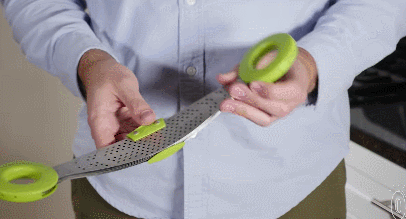 Built with stainless steel for a sturdy and flexible result

washing and strainer bowl is a very useful product with remarkable features. The kitchen organizer satisfies multiple purpose usage. It has a strong grip while holding the strainer bowl. It can easily be stored anywhere in the kitchen and occupies less space. Avoiding wastage of food is very necessary so perfect life ideas fruit and vegetable strainer basket is apt for this purpose. Enormous foodstuff like rice pulses, cereals, fruits, dry fruits, noodles, pasta, vegetables, green leaves, dal, etc
The bowl is very simple to use as you have to just rinse the vegetables or fruits and drain the water after a few minutes this saving your time. The plastic container is a perfect home organizer and is long-lasting. It makes your job in the kitchen simpler and easier.
SPECIFICATION:
| | |
| --- | --- |
| Weight | 230g |
| materiel | stainless steel |
HeyBuyer® No Questions Asked RETURN or REPLACEMENT Policy
3 CLICK EASY RETURN & REPLACEMENT COVERED WITH THIS ITEM 
ALSO YOU CAN REACH US AT
Email Us: support@heybuyer.in (24x7)
Call Us: +91 7778060715