Description
ANCIENT BEAUTY SECRET – A traditional Asian homeopathic skincare treatment, It's the best non-surgical and effective beauty secret of the Indian and Aztec civilizations to healthy and glowing skin.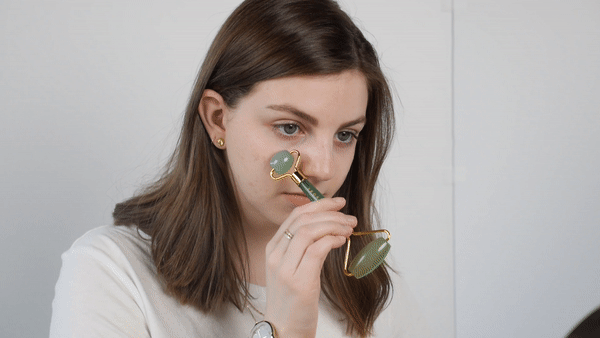 The True Healing Benefits

No More Wrinkles And Puffiness

The best body parts for your jade tools

Look & Feel Young
YOUR SKIN WILL THANK YOU - Jade Roller & Gua Sha toolset is made precisely for your skincare and skin recovery. It is designed to promote blood circulation, diminish puffiness and bags under the eyes, elasticity & tenderness.
 Simply apply your preferred facial serum or oil, then roll your roller in an upward direction. Your products will work their way deeper into your skin, helping you receive their full benefits. Great for gift giving.
Place the roller in the fridge prior to usage, to benefit from the intense cooling effect of the crystal.
 

High-quality Gua sha Facial Tools are handmade sets. Authentic stone Gua sha scraper is made from rose quartz stone,
The touch of a cold Jade stone helps to remove swelling of the face and improves blood circulation by means of massage, detoxify through lymphatic drainage, improve skin elasticity and toning
A tremendous amount of positive energy will be generated with this product.
HOW TO USE YOUR FACE ROLLER 
Experience an original  & Unique Jade that can be massaged over the face, feet, legs, arms, and breast areas.

For centuries Jade has been used as a daily routine to maintain a youthful complexion. Jade therapy is calming and soothing and helps to work out toxins through the lymphatic drainage system.

The crystal properties of Jade react well with the skin by balancing emotions, releasing negativity, and harmonizing body and mind. Jade is cool by nature and rolling it on the face and neck helps to close pores and tighten the skin providing a natural facelift. Used around the eyes, puffiness, dark circles and fine lines are greatly reduced.

Using rollers on the face :
Start in the center of the forehead firmly, yet gently, outward 3-4 times. Go back to the center of the forehead and move in the opposite direction 3-4 times. Use the same technique on the cheeks and jawline. The Jade Massage Tool can also be used in smoothing motions along the neck. Use the Jade end to improve lymphatic drainage around the eyes helping with dark circles and puffiness. Press lightly in the inner corner of the eye and move outward to reduce puffiness.

How to care for Face MASSAGER :
Handle with care. Use only light pressure. The Face Roller may be heated or chilled as desired. To clean the Massager, wash them with water and soap, rinse well and pat dry.
Please note that actual color may  little vary than the image 
HeyBuyer® No Questions Asked RETURN or REPLACEMENT Policy
3 CLICK EASY RETURN & REPLACEMENT COVERED WITH THIS ITEM 
ALSO YOU CAN REACH US AT
Email Us: support@heybuyer.in (24x7)
Call Us: +91 7778060715